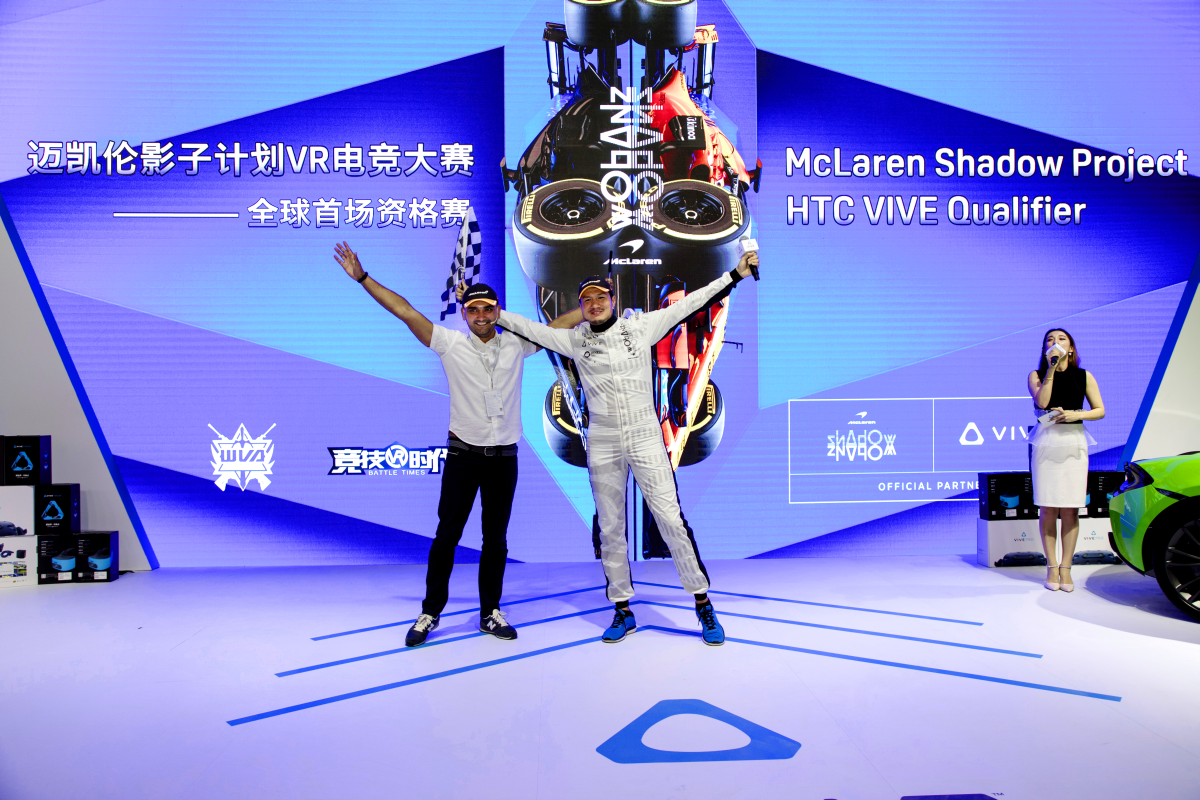 Reading Time: 4 minutes
HTC Further Enriches Its Thriving Ecosystem with Cutting-edge Entertainment Content at ChinaJoy 2018
HTC Partners with McLaren to Debut the World's First VR Motorsport eSports Competition in China, while the Vive Focus New System Update Delivers Features for Both Consumers and Enterprises
SHANGHAI, Aug. 3, 2018 – HTC Corporation ("HTC"), a pioneer in innovative, smart mobile and virtual/augmented reality (VR/AR) technologies, today unveiled the qualifier of the "McLaren Shadow Project" in China, the world's first VR motorsport eSports competition in cooperation with the Formula 1 (F1) team McLaren, as well as a wide range of exciting new content at ChinaJoy 2018. HTC also provided onsite demo experiences of over 20 thrilling content titles to the 300,000-plus fans at this year's ChinaJoy, the largest digital entertainment industry event in Asia.
The "McLaren Shadow Project" is a virtual racing programme in which participants compete in a racing game that shadows the real F1 team, using the Vive Pro headset. The competition will be time trial-based, and the fastest player from ChinaJoy 2018 will win a place in the finals, to take place in January 2019 at the McLaren Technology Centre UK. The programme's champion will win a seat in McLaren's new eSports team, an opportunity to join the McLaren eSports development programme and a unique motorsport experience.
"VR/AR(XR) technologies will fundamentally change the game, not only in the entertainment industry but across all facets of life, while the Vive Focus system update released today massively increases the amount of content accessible for the device elevating its value for users to a new level," said Alvin Wang Graylin, China President, HTC. "Already, the dramatic impact of XR on the gaming industry is transformational, which is clearly demonstrated by the new class of immersive content we are showing at ChinaJoy! As a category, eSports is being redefined by immersive technologies, and this cooperation between HTC Vive and McLaren to hold the world's first official VR motorsport eSport event this week is bringing the worlds of virtual and physical sports closer together than ever."
At the HTC booth at ChinaJoy 2018, visitors can experience a number of premier VR content that has yet to be released. Now being demoed on both the Vive Focus and the Vive Pro, these offerings range from seated single player games to large space multi-player experiences:
The world-famous video game developer and publisher Ubisoft is bringing its multi-player VR game Space Junkies to the Vive Pro, where players fly through space to face off in extreme battles.
The multi-player arcade shooting game Invaders will be available exclusively through Viveport Arcade. After 

August 6

, offline consumers can experience the game in arcades; it will also be available in Viveland, the world's first VR theme park run by HTC Vive.
Netease announced its online multi-player VR game, Nostos, to 

initially

 launch on Viveport in 2019. Set in an open world, the game employs physical simulation technology and a freedom of movement system to offer an unprecedented experience.
ModalVR, co-founded by Atari founder 

Nolan Bushnell

, debuted its Infinity Racer multi-user Vive Focus Location Based Entertainment (LBE) title on the HTC main stage for the first time ever in 

Asia

.
Salary Man Escape, presented together with Oasis Games, is a VR puzzle game, in which players leverage their knowledge to help a disgruntled salaryman escape his life. It will be available on Viveport on 

August 28

.
Wonderglade, the latest game for the Vive Focus, teleports users to a mystical theme park where they can enjoy six mini-games in a 6-Do

F

 experience that can only be realized on the device.
Flashing Beat, a VR music game developed by Chesstar and released by Vive Studios, was also launched during ChinaJoy 2018. The newly released bundle includes an exclusive song and a physical cardboard guitar accessory that allows users to insert their phone to fully immerse themselves in the joy of music. The bundle will be available for purchase through Vive Focus's Viveport starting from the 

August 10

th .
On the first day of ChinaJoy 2018, the third major system update for Vive Focus this year was announced, with several sought-after features. The new update supports "Theater Mode", allowing screen projection from any Miracast-enabled devices, including major Android phones and PC/laptops. This means that native mobile and PC apps can now be displayed on a giant screen through the Vive Focus. Enhanced support for RiftCat's VRidge simulator also allows PC VR content to be more easily streamed to the Vive Focus through standard 5GHz Wi-Fi networks, without any additional accessories. Breaking the constraints of multiple screens, these solutions give users access to millions of existing smartphone, tablet and PC content that can now be experienced on large virtual screens, thus greatly reducing the content obstacles hindering VR adoption.
The newly released Vive Focus system update also includes features regularly requested by enterprise customers, including Kiosk Mode, Gaze Support and Batch Installation. Under Kiosk Mode, custom applications can be configured to launch automatically, ensuring that users only interact with the designated content. Gaze Support enables direct user interactions, enabling user cases that don't require controller pairing. Enterprise users can also install corporate-own content and update kiosk settings through a simple microSD card. These updates allow enterprises to easily deploy their solutions and manage content as well as platforms, improving overall efficiency and saving on management and human resource costs with a more seamless operation.
SOURCE HTC
CONTACT: Silvia Ye, PR Manager, HTC/Vive China, +86 15200181526, [email protected]; Simin Shi, PR Manager, HTC/Vive China, +86 13001066249, [email protected]

Source: European Gaming Industry News