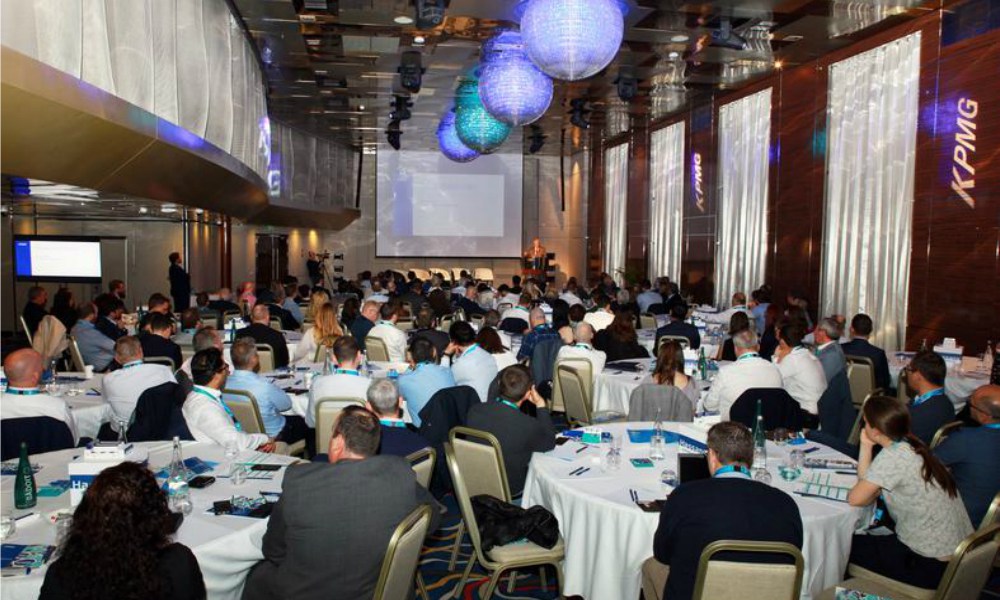 Reading Time: 4 minutes
More than 300 delegates met in Gibraltar at the KPMG eSummit 2018 which took place on the Sunborn Yacht last week, to learn more about the future for iGaming and blockchain.
The Summit is one of the year's highligt for all those linked to the iGaming industry in Gibraltar. The 2018 summit was also a must go event to those who are working hard to to position Gibraltar as an emerging Fintech hub. the most important topics were: Brexit, the evolving regulatory landscape with particular reference to DLT (distributed ledger technology) and tokens, PASPA in the USA, customer protection, industry and jurisdisction predictions and market developments.
After a welcome from KPMG's Micky Swindale, founder of the eSummit events, the conference was opened by Gibraltar's Minister for Commerce, the Hon. Albert Isola, who was upbeat in his assessment that "the iGaming industry in Gibraltar remains in excellent health and order". Minister Isola observed that both new and established providers continue to apply for licenses and that over 3,250 people are directly employed by the industry in Gibraltar, with half as many again employed in support services.
Whilst acknowledging that Brexit has created uncertainty, it was clear, he said, that progress was being made with the UK Government to "square the circles", adding that "only Gibraltar has guaranteed access to UK markets post Brexit".
Minister Isola also took the opportunity to present KPMG recognition awards to two long-standing stalwarts of the Gibraltar eGaming community: outgoing Gambling Commissioner Phill Brear and former CEO of Burford Group and 888 John Anderson. The Minister commented that it was "impossible to separate Phill Brear's work from our success as a gaming jurisdiction" and commended Mr Anderson as "an unsung hero" who had provided "excellent service to the industry and jurisdiction for over 40 years". Both men were presented with commemorative wood carvings in the shape of gaming chips.
Phill Brear then took to the stage himself to give a regulatory overview, reflecting that Gibraltar's success in the iGaming industry had been largely down to who it had chosen to licence and the professionalism of operators who were prepared to engage and listen to each other. His successor Andrew Lyman then outlined his impressions of his first 100 days in the job, and assured delegates that the Gambling Commission would continue to work closely with operators to remain a supportive regulatory regime.
Sian Jones, senior advisor to the Gibraltar Financial Services Commission, provided a fascinating insight into the burgeoning DLT sector in Gibraltar and the practicalities of legislating for an industry that is still being formed. She revealed that 30 applications have been received for DLT licences in Gibraltar with the first expected to be issued this summer. Sian also discussed the Commission's ongoing work around regulating tokenised digital assets and Initial Coin Offerings.
In one of the two IMGL Masterclass sessions, KPMG Brexit advisor Mark Essex took to the stage to host a panel discussion on Brexit looking at the potential implications of UK's departure from the EU and the transition period for Gibraltar. Panellists agreed that it was important to plan for a number of different outcomes but avoid committing too early to any major change ahead of the final agreement on a deal. This session also included a poll of delegates that revealed "ensuring free movement across the border" is currently considered the single most important factor in Brexit outcomes for Gibraltarian operators.
The second Masterclass was led by Richard Schuetz, who has worked both as an operator and a regulator in the US gambling industry. He gave an entertaining account of his experience with some useful tips on building relationships and the wisdom of staying onside with regulators.
In the afternoon delegates had a choice of attending breakout sessions which included an update on data protection from local law firm Hassans, cyber security benchmarking from Neil Coutts at KPMG and gender diversity in technology from the Gibraltar Girls in Tech team. Sessions on crypto funds and a panel discussion on Gibraltar's proposition for Fintech were also well attended.
In the main conference area, in the fabulous surroundings of the Sunborn's ballroom, the iGaming conference programme continued with a market update from Simon French of Cenkos Securities, who also hosted a panel discussion on M&A activity. Delegates were then introduced to HABET, a virtual world treatment currently in development for gambling disorders, followed by a panel discussion on protecting vulnerable customers. Andrew Lyman led the traditional industry outlook panel at the end of the day before delegates retired to the Sunborn's sun deck for drinks, informal chat and networking opportunities.
The KPMG eSummits are recognised as leading industry events and take place with the help of a number of generous sponsors including HM Government of Gibraltar, Continent 8, Gibtelecom, Hassans, Mishcon de Reya, SMP, ISOLAS, Microgaming and Kompli-Global.
Speaking after the event, KPMG's Global Head of Leisure Will Hawkley said it had been another day of highly valuable education and discussion for all those who had attended. "With events moving at such a pace, and external pressures such as Brexit and evolving legislation still creating uncertainty, it is extremely helpful and constructive to have an opportunity to reflect on how the industry in Gibraltar has progressed to date and where we would all like it to go in the future.
"It is very encouraging to see such a positive picture emerging and I'm extremely grateful to all our clients and speakers for sharing their insights and providing thought leadership on such an important range of topics."

Source: European Gaming Industry News