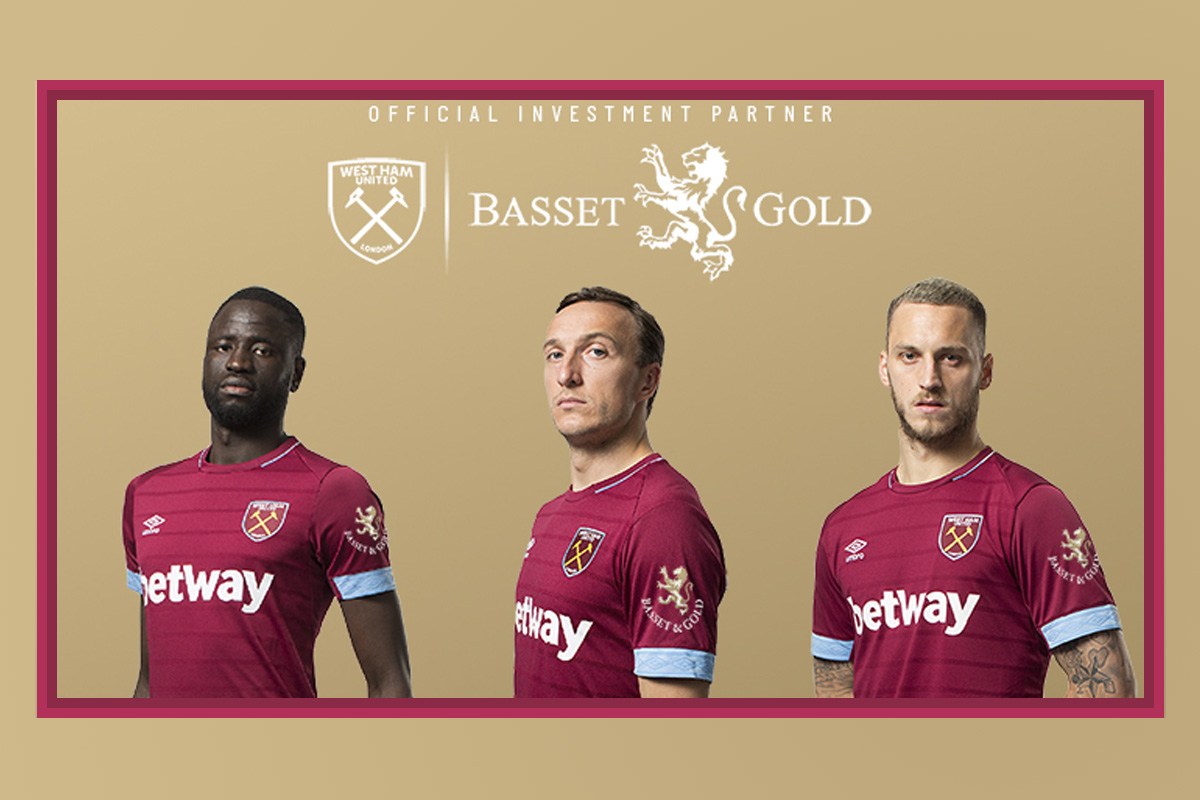 Reading Time: 2 minutes
West Ham are pleased to announce that they have reached an agreement with Basset & Gold to become the Club's sleeve sponsor.
Basset & Gold are a leading financial services firm based in the heart of the City of London, offering investors fixed income returns that are generated by providing financing to marketplace lending platforms and UK based businesses.
The partnership will see Basset & Gold's logo featured on the left sleeve of all West Ham United's men's first team, Academy and PL2 shirts, as well as becoming West Ham United's eSports partner.
eSports is an area in which West Ham United are pioneering and they became the first British team to announce an eSports player in 2016, while London Stadium hosted the first ever eSports tournament involving professional clubs in the same year.
Basset & Gold will also benefit from further branding opportunities across the club and the deal commits the two parties to work together closely to develop local community through activities and charity work as well as fan engagement opportunities for West Ham fans in and around east London.
Karren Brady, West Ham United Vice-Chairman, said: "I am delighted to announce our partnership with Basset & Gold and I am extremely excited about working together going forward. What really appealed to us was their commitment to working and engaging with our fans in east London and the local community.
"Our fans are at the heart of everything we do and we wanted to partner with someone who understands that and mirrors that commitment in their own work. Both partners are determined to achieve success next season and we cannot wait to launch our partnership through some incredible activations for our fans."
A Basset & Gold Spokesman said: "We are delighted to become a partner of West Ham United Football Club. We found West Ham United to stand out from the others in the way they treat their fans and their community, which is also ours being based in the City of London – only one train stop away from the fabulous stadium. Community and family are in the heart of our brand and we are looking forward to a fruitful partnership that will benefit both parties as well as everyone around us."
Karim Virani, Digital and Commercial Director at West Ham United, said: "Basset & Gold are a partner that we are extremely proud to have on our sleeve. Their unique approach to customer care and professionalism has proved extremely successful, whilst their impressive plans for the future absolutely match the ambition of our football club."
Basset & Gold look to provide everyday investors with the opportunity that was previously available only to ultra-high net worth investors, and gain attractive returns. Basset & Gold's mission is to challenge the market and create investment opportunities that are easy to understand, transparent and continuously control risk, while maintaining market-leading returns that meet investment goals.
Basset & Gold is a brand name of B&G Finance Ltd which is authorised and regulated by the Financial Conduct Authority (FCA). Basset & Gold see their investors as partners so endeavour to make sure they only make money when their investors make money. Basset & Gold has a reputation for superb customer care, professionalism team work, transparency and challenge the norms of the investment world.
For more information please visit bassetgold.co.uk

Source: European Gaming Industry News