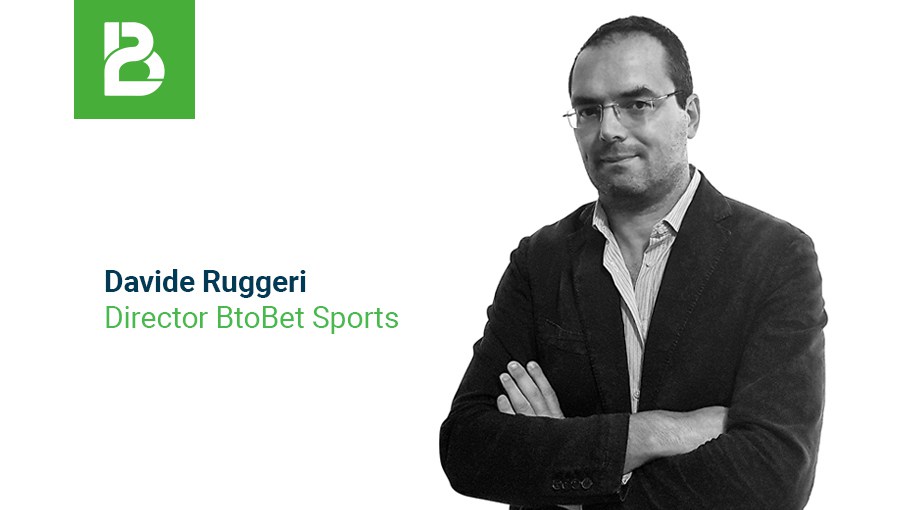 Reading Time: 4 minutes
Press Release – Malta, 1st March 2018 – After the launch of its newly redesigned divisions – BtoBet Sports and BtoBet Games –  the multinational iGaming and Sports betting technology provider BtoBet appointed Davide Ruggeri as new Director of the Sport department.
Previously, Ruggeri was BtoBet Head of Sportsbook, with a strong experience with Italy's top bookmakers where he was instrumental in the launch of legal sports-betting in Italy. Entering BtoBet, his acknowledged expertise is also within other European and worldwide regulated markets. Now, as Director of BtoBet Sport division in Rome, Ruggeri will focus on international bookmakers' needs and sportsbook players' preferences.
Commenting on the new position in the company, Davide Ruggeri stated:
"I'm very pleased with the new assignment at BtoBet. Together with the BtoBet Sports dedicated team, I will continue ensuring the clients' sports-betting brand provides the ultimate betting experience to the bettors. With my team, I will focus on developing the sportsbook customer experience, analysing betting functionalities and giving feedback to the development teams to ensure improvements for any single client. We will provide all needed tools for risk management across all pre-match, live, virtual and jackpot betting. My team and I will ensure a secure and flexible risk management service tailored to any compliance and business growth."
With a deep knowledge of the Italian sports betting and iGaming market, Ruggeri is going to attend the Enada Spring tradeshow on 15-16 March, in Italy. He will bring the company's Technifying iGaming tour to Rimini where he will meet Italian and international operators and bookmakers looking for experienced technical partners to enter proficiently into the local market.
Regarding the new scenario of the Italian gambling market and his participation at Enada, Ruggeri highlighted:
"To enter and stay competitive in the local sports betting market, operators and bookmakers must consider the importance of
having a deep knowledge of the Italian market and authorities
expert team based in Italy, able to manage both technical and bureaucratic process
setting adequate technology and flexible tools to build up quick and personalised offers."
To discover more, download the recent company's report "New Scenario 2018 for the Italian gaming market. Potential and tools for growth."
About BtoBet. BtoBet is a multinational company and is part of a group with 20 years of experience in software development in IT, finance, telecommunication, e-commerce and banking, strongly committed to technology and widely investing in technology research and development. The experience gained in these advanced environments, allows BtoBet to be visionary in the iGaming and Sports betting industry with a deep understanding of the requirements of the market, catching changing trends and anticipating bookmakers' and operators' needs. BtoBet is a true partner in technology, offering a standalone platform and services for the iGaming and Sports Betting industry. It counts on a very talented, continuously trained development team and day to day management support to clients. BtoBet allows licensees to be unique in the market, by giving them the opportunity to completely personalise their offers for Sports betting and iGaming business, online mobile and retail. BtoBet has technical branches with large ever-growing teams of developers in Skopje, Ohrid, Bitola, Belgrade, Nish, Tirana, and Rome. Malta hosts the commercial and marketing centre.
Visit our site on: www.btobet.com
---
Italian transcript: Davide Ruggeri nominato Direttore di BtoBet Sports
Dopo il lancio delle due divisioni recentemente ridisegnate – BtoBet Sports e BtoBet Games – il provider multinazionale di tecnologia per il settore dei giochi e delle scommesse, BtoBet, ha nominato Davide Ruggeri come nuovo direttore del dipartimento Sport.
In precedenza, Ruggeri ricopriva il ruolo di Head of Sportsbook, con una forte esperienza maturata tra i migliori bookmaker italiani, dove è stato determinante nel lancio delle scommesse sportive regolamentate in Italia. In BtoBet ha acquisito esperienza anche in altri mercati regolamentati, europei e mondiali.
Ora, come direttore della divisione BtoBet Sport, a Roma, Ruggeri si concentrerà sulle esigenze dei bookmaker internazionali e sulle preferenze dei giocatori delle scommesse sportive.
Commentando la nuova posizione in azienda, Ruggeri ha dichiarato:
"Sono molto soddisfatto del nuovo incarico di BtoBet. Insieme al team di BtoBet Sports, mi occuperó di garantire che i brand dei nostri clienti offrano, agli scommettitori, la migliore esperienza di scommesse possibile. Con la mia squadra, inoltre, mi concentrerò sullo sviluppo dell'esperienza del giocatore, analizzando le funzionalità di scommessa e dando riscontro al team di sviluppo per offrire migliori performance ad ogni singolo cliente. Forniremo tutti gli strumenti necessari per la gestione del rischio tra tutte le scommesse pre-match, live, virtuali e con jackpot. Insieme garantiremo un servizio di gestione del rischio sicuro e flessibile, su misura per qualsiasi conformità e crescita del business ".
Con la sua esperienza nel mondo di giochi e delle scommesse sportive italiane, Ruggeri parteciperà al salone dell'Enada Spring dal 15 al 16 marzo, in Italia. Porterà a Rimini il tour Technifying iGaming dell'azienda, dove incontrerà operatori e bookmaker italiani e internazionali alla ricerca di partner tecnici esperti per entrare nel mercato locale.
Per quanto riguarda il nuovo scenario del mercato del gioco d'azzardo italiano e la sua partecipazione ad Enada, Ruggeri ha evidenziato:
"Per entrare e rimanere competitivi nel mercato delle scommesse sportive locali, gli operatori e i bookmaker devono considerare l'importanza di
avere una profonda conoscenza del mercato e delle relative autorità italiane
team di esperti con sede in Italia, in grado di gestire processi tecnici e burocratici
definizione di tecnologie adeguate e strumenti flessibili per creare offerte rapide e personalizzate".
Per saperne di più, scarica la recente analisi di mercato di BtoBet "Nuovo scenario 2018 del mercato italiano dei Giochi. Potenziale e strumenti per crescere".

BtoBet in breve
BtoBet è una multinazionale, parte di un gruppo che vanta 20 anni di esperienza nello sviluppo di software in ambito IT, finanziario, delle telecomunicazioni, dell'e-commerce e bancario, fortemente impegnata nella tecnologia per la quale invese in ricerca e sviluppo. L'esperienza acquisita in questi ambiti tecnologici avanzati, permettono a BtoBet di essere visionaria nel settore dell' iGaming e delle Scommesse sportive, con una profonda comprensione delle richieste del mercato, capace di catturare le evoluzioni delle tendenze e di anticipare i bisogni dei bookmaker e degli operatori ".it". BtoBet è uncompletp partner tecnologico, che offre piattaforme indipendenti e servizi per l'industria dell' iGaming e delle Scommesse sportive. Si avvale di un team di sviluppo altamente qualificato, costantemente aggiornato e di una gestione quotidiana di supporto ai clienti. BtoBet permette agli operatori di essere unici nel mercato, offrendo l'opportunitá di personalizzare il loro business di scommesse sportive e igaming, online e a terra. BtoBet ha sedi a Malta, Roma, Skopjie, Ohrid, Bitola, Belgrade, Nish e Tirana.  Visita in nostro sito web: www.btobet.com

Source: European Gaming Industry News