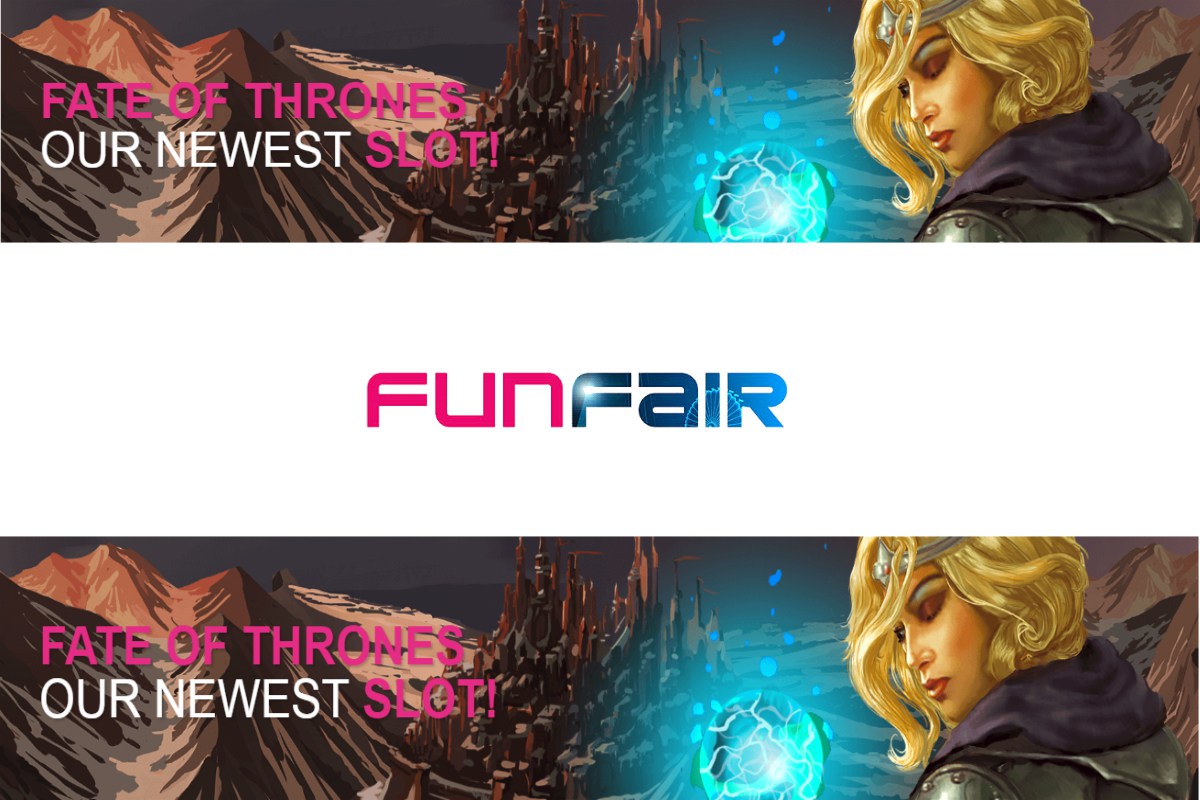 Reading Time: 2 minutes
Fate of Thrones made possible with FunFair's proprietary Fate Channels technology
25 June, 2018 – FunFair Technologies, the leading decentralised B2B casino platform, has launched its latest premium slot, Fate of Thrones, which pushes the boundaries of what a casino game on the blockchain can offer.
Existing blockchain titles tend to have stripped-back graphics and poor gameplay, but FunFair, with its games development expertise have proven this needn't be the case. Its latest title, using its proprietary Fate Channels technology, will further open up the blockchain gaming world to both crypto-savvy and more traditional players.
FunFair's pioneering Fate Channel solution vastly improves the user experience, reduces cost to players with just one transaction cost per game session as opposed to every spin or deal, and brings the blockchain gaming experience in-line with what mainstream players expect of an online slots title.
Medieval-themed Fate of Thrones follows the successful Treasures from the Crypto slot, which launched earlier this year, with both offering high-spec 3D graphics, a premium soundscape and unique bonus rounds. Coupled with immediate withdrawals and provably fair RNG's, FunFair has raised the bar in the blockchain space and continues to lead the field in its platform and content output.
FunFair's rapidly growing gaming and design teams will continue to launch more titles throughout 2018, with current games available to play now in its beta testing and Showcase site, as well as with its new casino partners, set to go live in Q3.
Jez San, Founder and CEO at FunFair Technologies, said: "Blockchain games have lagged behind the traditional online casino experience as developers and operators struggle to deal with scalability issues on the blockchain. Our Fate Channels solve this issue, as we've proven with slots Fate of Thrones and Treasures from the Crypto, and our numerous table and instant win games.
"Players on the blockchain have been forgiving of these flaws until now, but we think they deserve more, and as the technology continues on its mainstream trajectory, we'll continue to develop premium casino titles across all genres which will empower a new generation of casino operator to provide the best experience possible to players around the world."
To play Fate of Thrones, Treasures from the Crypto and FunFair's other popular titles, visit the Showcase here.
About FunFair Technologies:
FunFair Technologies is the leading B2B blockchain casino platform provider which is revolutionising the online casino industry. Its proprietary Fate Channels technology mitigates existing scaling issues on the blockchain ensuring operators can provide their players with a fun, fast and fair gaming experience. FunFair ran a successful ICO in June 2017, which launched its own cryptocurrency, FUN, now held by more than 50,000 worldwide.
Its team has over 100 years of combined experience in the gaming and casino space, as well as 20 years of blockchain expertise, providing the platform to deliver the best slots and table games in a transparent, provably fair manner. Founded by Jez San in 2017, its growing team of 50 are based in offices in Singapore, London, Guernsey, Gibraltar and Malta.

Source: European Gaming Industry News