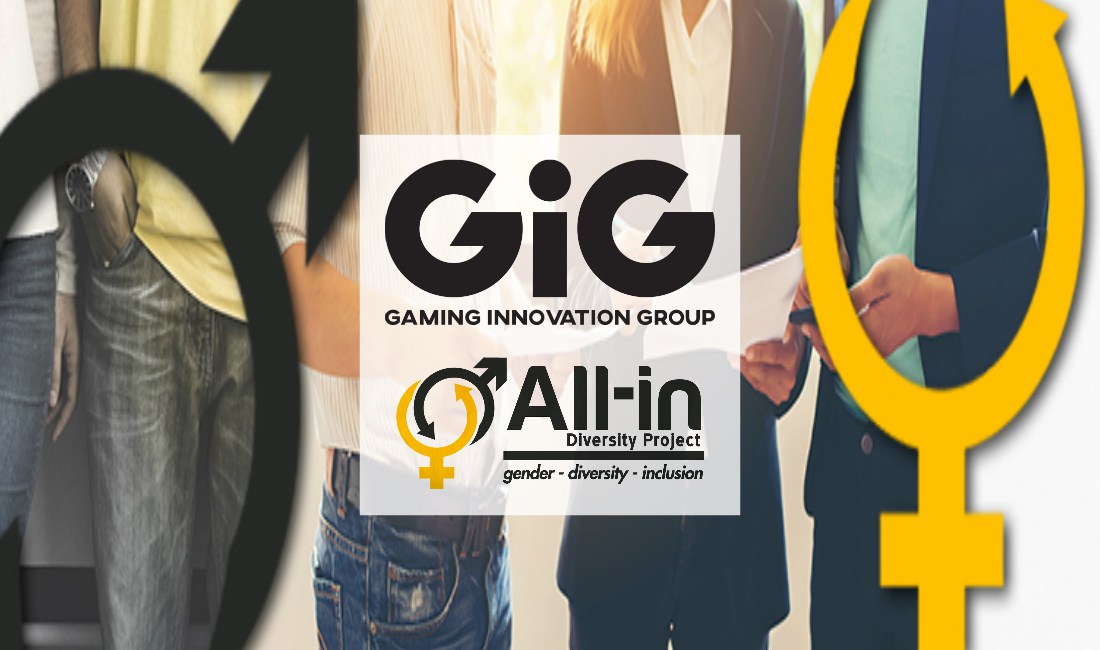 Reading Time: 2 minutes
St. Julian's, Malta, 1 March 2018 – Gaming Innovation Group (OSE:GIG) has announced its partnership with the All-in Diversity Project (AIDP), further emphasising its commitment to improving diversity in the gambling sector. This is in addition to GiG's existing partnership with Girls in Tech focused on the engagement, education and empowerment of girls and women who are passionate about technology.
"GiG's vision is to open up iGaming to make it fun and fair for all. By attracting a more diverse workforce, the gambling industry can not only improve its performance but make better decisions. Through All-in, we will become part of a bigger conversation involving more organisations to work on improving the joint diversity challenge faced by the industry," comments GiG CEO Robin Reed.
GiG CMO Tomas Bäckman: "Attracting strong female candidates to fill product, commercial and tech-related leadership roles is key"
"From a commercial point of view, GiG needs to speak to its female audience just as well as the male audience when thinking about the personalization of our online casino products. Attracting strong female candidates to fill product, commercial and tech-related leadership roles is key," said GiG CMO Tomas Bäckman, while speaking a few weeks ago at a Diversity workshop during ICE.
AIDP Co-founder Kelly Kehn: "GiG shares our values and is truly walking their talk"
"It's clear that Gaming Innovation Group has always had Diversity and Inclusion at the heart of their company culture. It's evident in everything they do. We believe that 'diversity' is not a one-off initiative, but rather should be embraced at all levels and as part of how we move our industry forward in terms of image, product and talent. GiG shares those values and is truly walking their talk. We are proud to have them as a Founding Member of the All-in Diversity Project," comments Kelly Kehn, Co-founder of All-in Diversity Project.
"GiGsters Connect" event featuring Apple Co-founder Steve Wozniak marking GiG's 5-year anniversary
GiG is celebrating their 5-year anniversary next week with an internal conference, called "GiGsters Connect", where employees will find out more about the partnership. GiGsters Connect is also featuring guest speaker and Apple Co-founder Steve "Woz" Wozniak. Additionally to the 650+ GiGsters gathering from 6 locations across Europe, GiG has invited 400+ members of the Maltese Tech community – for this session only – to be inspired by the legendary Silicon Valley tech wizard.
About All-in Diversity Project:
Gender, Diversity, Inclusion.
The All-in Diversity Project is an industry-driven initiative to benchmark diversity, equality and inclusion for the global betting and gaming sector. The All-in Diversity Project is the industry's global resource for data pertaining to diversity and inclusion. We collect data through employee surveys and the All-Index – a standard index which is set to be the definitive benchmarking tool for the gambling industry to measure progress towards inclusion in the workplace.
We believe that we can't fix what we can't measure. It's time to understand where we are as an industry, where we want to go and decide how to get there.
About GIG:
Gaming Innovation Group Inc. is a technology company providing products and services across the entire value chain in the iGaming industry. Founded in 2012, Gaming Innovation Group's vision is "To open up iGaming and make it fair and fun for all". Through our eco-system of products and services, we are connecting operators, suppliers and users to create the best iGaming experiences in the world. Gaming Innovation Group operates out of Malta and is listed on the Oslo Stock Exchange under the ticker symbol GIG.

Source: European Gaming Industry News