Park Avenue helps to raise over £5,000 for Bacta Charitable Trust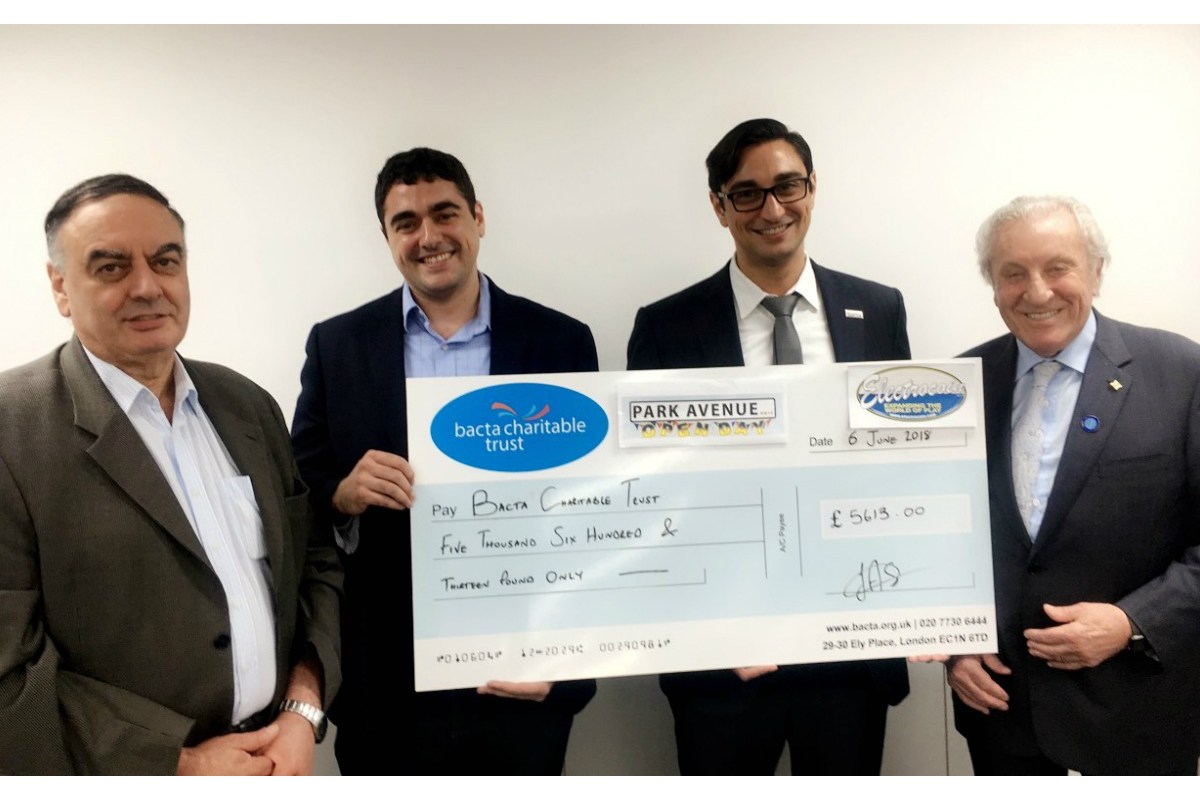 Reading Time: 2 minutes
Fund raising at June's highly successful Park Avenue Open Day generated a total of £5,613 for the Bacta Charitable Trust. The sum, which was presented by Electrocoin to Bacta Charitable Trust Chairman, Jimmy Thomas, marked a return to the system by which the industry raises money for the Trust which in turn allocates it across its charity partners. Bacta's quartet of charity partner organisations comprise Rays Of Sunshine, Teenage Cancer Trust, Great Ormond Street Hospital and Macmillan/Royal Marsden. Under the re-worked administrative structure, the Bacta Charitable Trust will also hold a reserve in order to be able to match fund special initiatives which have been recommended for support by the Bacta regions.
Reflecting on the fundraising work undertaken by Bacta, Jimmy Thomas, Chairman of the Charitable Trust, said: "The four charities that we are partnering are all extremely worthy causes that offer compassion and care to individuals, both young and old throughout the country. Bacta members have a strong sense of community and this is best seen by their prodigious commitment to fundraising for deserving causes. I think every Bacta member company has contributed to the Charitable Trust enabling it to raise a total of £3.25m for a range of good causes including the Princes Youth Business Trust, Macmillan Cancer Support, British Institute for Brain Injured Children and Fairbridge, the organisation which helps mentor disengaged young people. More recently Bacta members have raised close to £500,000 for Rays of Sunshine, a sum which has helped grant wishes for children and young people with a serious or life-limiting illness."
He added: "The changes to the way in which the Trust works enables us to spread the net of charities that we partner and in the process engage with Bacta members who may have a personal connection with a particular cause and with organisations that have a direct relevance to a region. The new structure provides more flexibility and will enable us to continue the fantastic fundraising that is part of the DNA of this business, irrespective of trading conditions."
In a separate development, former Bacta National President, Steve Hawkins, has been appointed Vice Chairman of the Charitable Trust.
About bacta:
Bacta represents the amusement and gaming machine industry in the UK, encompassing high-tech and creative manufacturers, machine suppliers for pubs, clubs and bingo halls, as well as operators of Family Entertainment Centres and over 18s Gaming Centres. Bacta members include the whole of the amusement machine supply chain in the UK, which has a collective turnover of nearly £2bn across more than 500 companies, operating in excess of 310,000 machines.

Source: European Gaming Industry News