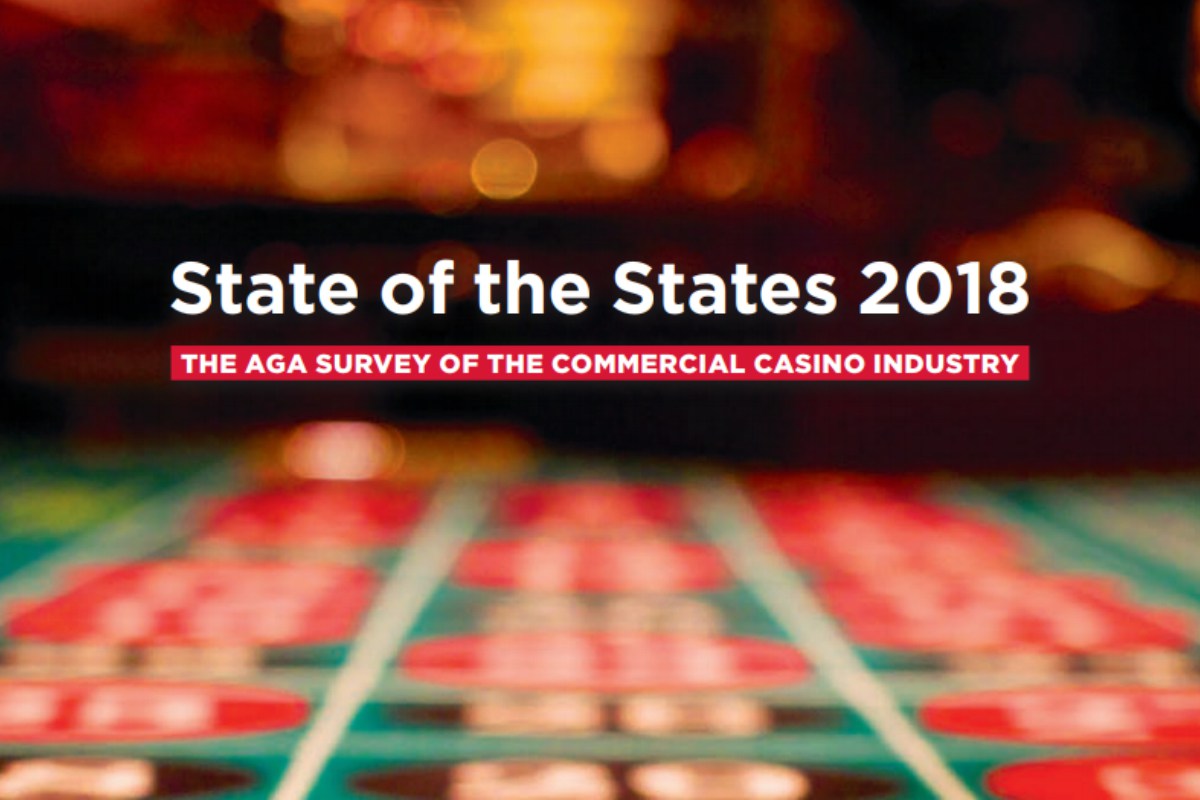 Reading Time: 2 minutes
Commercial gaming revenue surpasses $40 billion for first time, according to AGA's 2018 State of the States
WASHINGTON, Aug. 22, 2018 — Today, the American Gaming Association (AGA) released the 2018 edition of State of the States: The AGA Survey of the Commercial Casino Industry, AGA's flagship publication. The annual report provides a comprehensive overview of the commercial casino industry and the significant economic impact it has in the 24 U.S. states with commercial gaming operations.
Key findings from the 2018 State of the States report include:
The commercial gaming industry brought in

$40.28 billion

in gaming revenue in 2017, a 3.4 percent increase over 2016;
In 2017, states received

$9.23 billion

in revenue from commercial gaming taxes alone; and
20 commercial casino states experienced revenue increases in 2017, reflecting strong macroeconomic trends and sustained job growth in most parts of the country.
"Each year, AGA's State of the States report provides the most detailed snapshot available of our complex industry, and the many benefits AGA members provide for their employees, partners and communities," said Stacy Papadopoulos, interim CEO of the American Gaming Association. "This year's report demonstrates the commercial gaming industry's role as a job creator and revenue generator in states across the country, and we're proud of the industry's steady growth over the past few years."
AGA's annual State of the States report includes state-by-state analyses of revenue, tax data and wage and employment information from the previous year. For the first time, the 2018 edition combines two of AGA's signature publications: State of the States and U.S. Gaming Industry Review – into one comprehensive overview of the 24 U.S. states with commercial casino gaming. The report also provides a state-by-state breakdown of the legality of types of gaming and number of casinos, as well as a look at the primary competition faced by casinos in each state and summarizes the year's major gaming policy discussions relevant to gaming operators and suppliers.
About AGA: The American Gaming Association is the premier national trade group representing the $261 billion U.S. casino industry, which supports 1.8 million jobs nationwide. AGA members include commercial and tribal casino operators, gaming suppliers and other entities affiliated with the gaming industry. It is the mission of the AGA to achieve sound policies and regulations consistent with casino gaming's modern appeal and vast economic contributions.
Source: American Gaming Association

Source: European Gaming Industry News